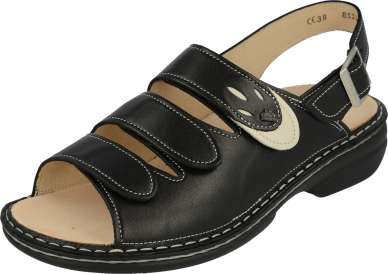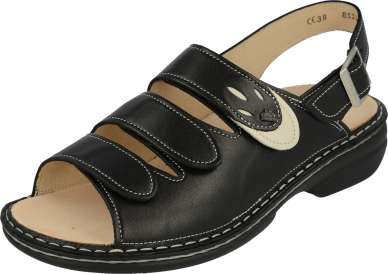 Saloniki - Black Jasmin
Finn Comfort
Sale price

$270

Regular price
Can we help you choose your size?
Call us Toll Free at 1 877 939-1804
We'll be happy to assist you!
Description

*ONLINE EXCLUSIVE

#2557-900418

Do you have normal to wide feet and are looking for a comfortable feel-good shoe with high wearing comfort and a natural fit that also allows made-to-measure insoles?

Then this model, a airy feel-good model with three narrow Velcro straps and a hole pattern, is the right shoe for you. The completely leather-lined shaft and the flexible PU sole with a medium drop are connected with a high-quality hand seam.

Leather Upper
Leather Lining

Adjustable hook-and-loop instep strap

Heel Height differential of 25 mm

Made especially for Wide Feet

Removable Original Finn Comfort Cork Footbed

Hand-Stitched Polyurethane Outsole

Made in Germany

*Please note that this item may take 1 to 6 weeks to ship
SHIPPING & RETURNS
LEATHER CARE TIPS

Clean any dust or dirt with a damp cloth and buff the shoes with a soft polishing cloth to remove excess water. Allow shoes to dry overnight. Tougher scuffs can often be removed by applying a small amount of vaseline on a paper towel or q-tip and rubbing the mark. Wipe the area off with a dry cloth.
Finn Comfort Comparative Shoe Sizes
| | | | |
| --- | --- | --- | --- |
| UK | Euro Sizing | US Men | US Women |
| 1 | 33 | 1.5 | 3.5 |
| 1.5 |   | 2 | 4 |
| 2 | 34 | 2.5 | 4.5 |
| 2.5 | 35 | 3 | 5 |
| 3 | | 3.5 | 5.5 |
| 3.5 | 36 | 4 | 6 |
| 4 | 37 | 4.5 | 6.5 |
| 4.5 | | 5 | 7 |
| 5 | 38 | 5.5 | 7.5 |
| 5.5 | | 6 | 8 |
| 6 | 39 | 6.5 | 8.5 |
| 6.5 | 40 | 7 | 9 |
| 7 | | 7.5 | 9.5 |
| 7.5 | 41 | 8 | 10 |
| 8 | 42 | 8.5 | 10.5 |
| 8.5 | | 9 | 11 |
| 9 | 43 | 9.5 | 11.5 |
| 9.5 | | 10 | 12 |
| 10 | 44 | 10.5 | 12.5 |
| 10.5 | 45 | 11 | 13 |
| 11 | | 11.5 | |
| 11.5 | 46 | 12 | |
| 12 | 47 | 12.5 | |
| 12.5 | | 13 | |
| 13 | 48 | | |
| 13.5 | | | |
| 14 | 49 | | |
| 14.5 | 50 | | |
| 15 | | | |